50 cose estremamente soddisfacenti che sono in grado di calmare gli animi dei più perfezionisti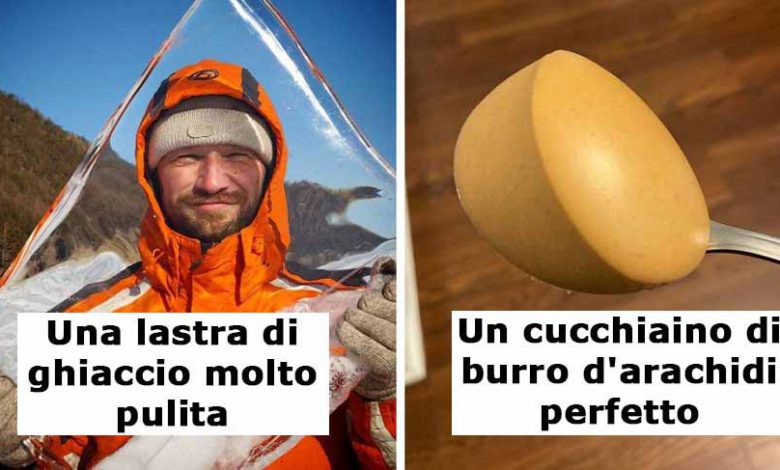 Ci sono molte persone nel mondo che amano l'ordine e la perfezione al punto che se capita loro di vedere una mattonella posizionata male, o un semplice quadro storto, devono fare di tutto per non rischiare di guardare l'oggetto in questione per una seconda volta e, soprattutto, per riuscire a toglierselo dalla testa. Di fatto, ammirare una torta glassata con la superficie perfettamente liscia, o un marciapiede con le piastrelle allineate con precisione, è un qualcosa che dà un'estrema soddisfazione.
Sulla piattaforma di Reddit c'è un gruppo dedicato a questo tipo di immagini che si chiama OddlySatisfying (Stranamente soddisfacente), dove gli utenti condividono video e foto nei quali predominano l'ordine, la simmetria e l'uniformità e che, proprio per questo motivo, sono assolutamente piacevoli da osservare.
Di seguito puoi trovare 50 cose estremamente soddisfacenti che sono in grado di calmare gli animi dei più perfezionisti:
1# Il tronco di un albero caduto ha creato questo effetto nell'acqua
A single fallen tree holding back the Duckweed in the wetlands of Louisiana from interestingasfuck
2# Il modo in cui le vene di questa foglia si allineano con le linee della mano
The way the veins of the leaf align on the creases of the hand from oddlysatisfying
3# Questo elastico si è incastrato perfettamente nella suola
4# Sono un insegnante d'arte e mi sono trasferito in una nuova scuola la scorsa estate. L'insegnante precedente non condivideva il mio amore per l'organizzazione. Ecco il prima e il dopo del mio armadio!
I'm an art teacher and I moved to a new school this past summer. The previous teacher did not share my love of organization. Behold the before and after of my paper closet! from oddlysatisfying
5# L'ombra dell'albero
6# Il fumo di una candela
A picture demonstrating how smoke is particulate matter suspended in air from oddlysatisfying
7# Il perfetto fiocco di neve che è caduto ieri sul mio cappotto
Perfect snowflake that fell on my coat yesterday from oddlysatisfying
8# Un mango e un pappagallino dai colori identici
Not OC from PartyParrot
9# Una casa nera in stile vittoriano a San Francisco
10# Un fiore che ho trovato alle Hawaii alcuni mesi fa
A flower I found in Hawaii a few months ago from oddlysatisfying
11# Una bella mela intagliata
12# Torte a forma di pianoforte
Piano cake. Unbelievable to look at. Very talented Chef. from nextfuckinglevel
13# Prima e dopo
14# Mio padre ha sistemato la nuova pavimentazione intorno a un vecchio albero
My dad laid new decking around an old tree! from oddlysatisfying
15# Le spettacolari foglie di questo albero
16# Il mio amico ha lasciato le sue galline libere di mangiare l'anguria. L'hanno ripulita completamente
My friend let her chickens loose on a watermelon. They picked it clean. from oddlysatisfying
17# Due gatti perfettamente rannicchiati
18# Un'armoniosa sauna in Finlandia
19# Una trapunta realizzata da mia moglie
Another finished quilt made by my wife. from oddlysatisfying
20# Un disegno perfetto realizzato a mano libera
I was told on a couple of art subreddits you all might appreciate my art. from oddlysatisfying
21# Una miniatura perfetta
22# La neve si è accumulata in un modo perfetto
23# La fine di una giornata
24# Ho continuato a vederlo, così la terza notte ho deciso di fare una foto
I kept on passing this, so on the third night I decided to take a picture. from oddlysatisfying
25# Il seminterrato estremamente ordinato dei miei amici
My friends basement organization is something else from oddlysatisfying
26# Una lastra di ghiaccio molto pulita
27# Un cucchiaino di burro d'arachidi perfetto
28# Uno scatto perfetto
29# La mia succulenta
30# La mia bella pila di mini pancake
31# Quando il tuo nuovo supervisore ha appena lasciato l'esercito
When your new dock supervisor is fresh out of the military from oddlysatisfying
32# L'albero dei miei vicini ha una colorazione perfetta
33# I colori del Midwest americano
34# Un perfetto lavoro di saldatura
35# Carote impilate alla perfezione
Amazingly well-stacked carrots on a pickup. from oddlysatisfying
36# Tre perfette torte al rabarbaro
37# La disposizione di queste bollicine assomiglia all'Europa e all'Asia
The arrangement of these bubbles looks like Europe and Asia from oddlysatisfying
38# Ho trovato una vecchia foto di me e mio fratello (ora ho 28 anni)
Found an old photo of my brother and I (I'm now 28) from oddlysatisfying
39# Oggi sono davvero orgoglioso del mio lavoro
40# Un'opera d'arte davvero soddisfacente
This boulder with stretched bronze does it for me from oddlysatisfying
41# La neve intatta dà grandi soddisfazioni
42# Il modo in cui questo gatto si fonde con il legno
43# Una fusione perfetta
This Mystique cosplay mid merge (by magnetomystique) from oddlysatisfying
44# Un uovo perfettamente rotondo
45# Goccioline sul parabrezza di un'auto durante il tramonto
Droplets on a car windshield during sunset from oddlysatisfying
46# Una confezione regalo piena di orsetti gommosi per un bambino autistico
Gummy Bear gift box for an autistic date from oddlysatisfying
47# La mia gelatina a 7 strati
Someone on r/foodporn suggested I put my 7 layer jello here from oddlysatisfying
48# Un denso frullato alla fragola
49# Mia madre lavora da Amazon e mi ha mandato la foto di uno dei camion che ha caricato
My mom works at Amazon and she sent me a photo of one of the trucks she loaded. from oddlysatisfying
50# Una torta a forma di pavone
Scorri verso il basso per altri interessanti articoli.
Sai che ora abbiamo aperto un nuovo canale Telegram? Richiedi l'accesso per non perderti i nostri contenuti. CLICCA QUI
Quale ti ha soddisfatto di più? Condividi il contenuto e seguici per altre notizie, storie e curiosità su Curiosando si impara.
Curiosandosimpara.com è presente anche su Google News, se vuoi rimanere sempre aggiornato con le nostre notizie SEGUICI QUI