38 foto delle opere più belle e creative condivise in un gruppo di amanti dell'uncinetto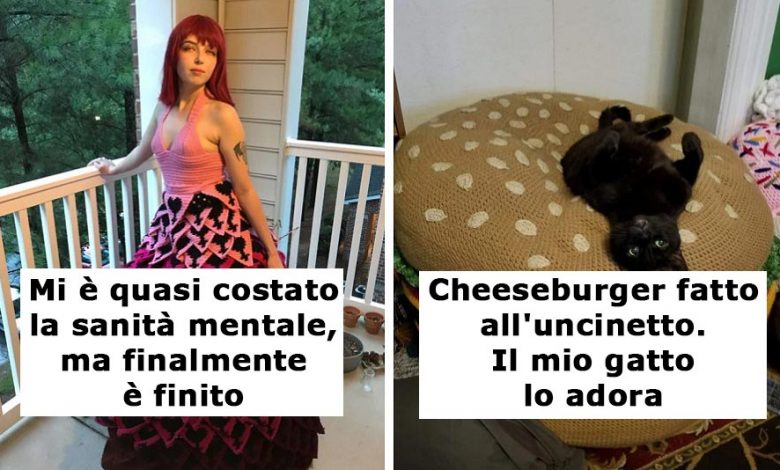 Lavorare all'uncinetto potrebbe sembrare per molti un'attività che si è persa con il tempo e che svolgevano solamente le nostre nonne in passato, tuttavia, sulla piattaforma di Reddit dal 2008 esiste un gruppo di persone chiamato Crochet che mostra proprio il contrario, poiché si tratta di una community composta da più di 260 mila membri che, ogni giorno, condividono le proprie creazioni, danno pareri, o chiedono consigli utili a chi è più esperto.
1# Finalmente ho finito questa coperta con gatti con i colori del tramonto! Grazie mille a questa community per avermi aiutato lungo la strada
Fiiiinally finished this sunset-colored cat blanket!! Thank you so much to this community for helping me along the way!!
by u/savannahstitches in crochet
2# Dopo due mesi finalmente l'ho finito
Finally finished after 2 months.
by u/scared_pistachio in crochet
3# Ho finito un'altra gonna. È la gonna più amata nel mio studio e le clienti la adorano. Cosa ne pensi?
I finished one more skirt. The most beloved skirt in my studio and the customers love it. What do you think?
by u/greenvulture_anna in crochet
Di fatto, con la pratica, la dedizione e l'eperienza si possono ottenere degli ottimi risultati, tanto che alcune persone sono in grado di realizzare con le proprie mani dei veri e propri capolavori come, per esempio, abiti e indumenti unici e originali, cucce per animali domestici, spendide coperte, colorati pupazzetti e chi più ne ha più ne metta, poiché l'unico limite sta nella fantasia e nell'immaginazione di chi crea.
4# Ho fatto un divanetto per la mia gatta
I made my old girl a sofa, to people watch from.
by u/CoughInNine in crochet
5# Il mio UFO
Thought I would release my own UFO images since the pentagon is releasing theirs.
by u/Touwtjee in crochet
6# Sto lavorando ad una serie di icone femministe ed ecco la mia prima Marie Curie
HOTH: I am working on a series of Feminist Icons for my Brownie Unit. Here is the first, Marie Curie.
by u/Wolf_Mommy in crochet
Coloro che sono alle prime armi sanno bene che per migliorare bisogna avere a disposizione tanto tempo e parecchia pazienza, ma, nonostante questo, gli esperti affermano che uno dei più grandi vantaggi dell'uncinetto è la possibilità di ricominciare da capo, senza sprecare nulla, quando si pensa di aver sbagliato. Inoltre, gli innumerevoli tutorial che si possono trovare in giro per il web sono una risorsa molto importante per qualsiasi principiante.
7# Resta solo un bordo da fare e forse qualche filo da sistemare, ma sono già felice
Only a border left to make. And maybe a few threads to put away with :-). But happy already. Stained Glass Wonder Blanket.
by u/Wandel321 in crochet
8# La mia mamma mi ha fatto un divanetto
9# Ho realizzato il mio primo vestito all'uncinetto. All'inizio stavo facendo una maglietta, ma ho modificato un po' il modello e ho finito per fare questo. Speriamo sia il primo di tanti
FO: I made my very first crochet dress. At first I was making a shirt, but I tweaked the pattern a little and ended up with this. Hopefully the first of many..
by u/robbieleighjohnson in crochet
Si tratta di unìattività che è possibile imparare in maniera autonoma e, dipendentemente dai tessuti che si scelgono, risulta essere poco dispendiosa, perché per iniziare non serve altro che un uncinetto e un gomitolo di cotone del colore che si preferisce. Dopodiché, oltre a questo, è necessaria solo un po' di buona volontà e non aver paura di sperimentare.
10# Mia cognata adora Jeff Goldblum, quindi le ho fatto questa coperta all'uncinetto
My SIL loves Jeff Goldblum so I crocheted her a blanket as a surprise.
by u/redlorelei in crochet
11# Ho fatto uno squalo, non è il massimo ma ho 14 anni e ci ho provato
i made a shark its not the best but im 14 and i tried
by u/69_nice- in crochet
12# L'artista Liisa Hietanen ricrea le persone all'uncinetto
13# La mia coperta ha vinto il primo posto in un concorso
My Persian Tiles blanket won first place in a crochet blanket competition!
by u/Fizzyguineapig in crochet
14# Una delle mie creazioni preferite
A little bit of happiness on a grey Saturday, one of my favourite things I had done. Just random small flower patterns from all over the internet 😍
by u/CrochetLady071 in crochet
15# Per la scienza
16# Ho lavorato all'uncinetto un'orchidea
17# Ho finito il mio primo grande progetto
Finished my first big project! Ulita doily rug
by u/stitchin-away in crochet
18# Una foto del mio abito da sposa fatto all'uncinetto
As requested, a pic of my self crocheted wedding dress (deleted first post, you can seem the dress better on this one)
by u/pugglik in crochet
19# Ho fatto dei cappelli a forma di broccoli per i miei cani
20# Ho lavorato all'uncinetto tutti i Pokemon di prima generazione
It's finally done, I crocheted all gen 1 Pokemon!
by u/KHookCreations in crochet
21# Il costume che ho fatto per mio figlio
Xenomorph crochet full body costume! My son's choice! He glows! (Freehanded/No Pattern)
by u/Crochetverse in crochet
22# Mia moglie fa adorabili animali all'uncinetto
My wife makes lovely crochet animals. At the moment she is not on a high with self confidence so I want to show her that her work is not only liked by our kids and myself.
by u/Diaphor in crochet
23# Mi è quasi costato la sanità mentale, ma finalmente il mio vestito è finito
It nearly cost me my sanity, but my scale dress is finally complete!
by u/Zahai in crochet
24# Ho creato all'uncinetto il mio abito da sposa
Crocheted my wedding dress. Details in the comments.
by u/Leggylett in crochet
25# Li ho appena finiti, sono adorabili
I just finished these as a commission! I think they're adorable and bring me joy.
by u/hookinghappiness in crochet
26# Ho realizzato questo cardigan per la mia bambina
I designed this cardigan for my little girl.
by u/Eliesje in crochet
27# Uno dei progetti che ho finito durante la quarantena
One of my projects I've finished in quarantine
by u/foreverjules in crochet
28# I lavori all'uncinetto che ho realizzato in un anno
29# Cappello da strega
Twisted Witch Hat! Pay no mind to all the Summer happening in the background…
by u/Heavy_Metal_Hippy in crochet
30# Quest'anno mia mamma ha lavorato all'uncinetto 31 coperte e le ha donate ai bambini malati
My mom crochets and donated 31 blankets to sick children this year.
by u/seacogen in crochet
31# Ho realizzato questo polpo per mio figlio
Made an octopus friend for my son. Son included for scale
by u/nericksx in crochet
32# La mia coperta con girasoli
A sunflower blanket I crocheted as a housewarming gift
by u/arteporvida in crochet
33# Ho fatto un cheeseburger all'uncinetto e il mio gatto lo adora
I crocheted a cheeseburger and my cat loves it so much. 🍔
by u/baistei in crochet
34# Il nuovo razzo che ho realizzato
35# Il mio primo progetto. Mi sono innamorato di una ragazza che adora le margherite. Mi ha mostrato la foto di una coperta come questa. Non avevo idea di come lavorare all'uncinetto, ma a lei piaceva davvero tanto quella coperta, quindi ne ho realizzata una
My first [FO]. I fell in love with a girl who loves daisies. She showed me a picture of a blanket like this. I had no clue how to crochet, but she REALLY liked that blanket, so I knew what I had to do.
by u/RetfordOaks in crochet
36# Il costume di quest'anno per la mia bambina è finalmente completo
This year's costume for my little girl is finally complete!
by u/chorski in crochet
37# Volevo condividere questi lavori di cui sono orgoglioso
Wanted to share these friends I'm proud of!
by u/SpecificMirror9739 in crochet
38# Finalmente l'ho finito
Finally finished this guy after months of procrastination 🦜
by u/krystall71 in crochet
Scorri verso il basso per altri interessanti articoli.
Sai che ora abbiamo aperto un nuovo canale Telegram? Richiedi l'accesso per non perderti i nostri contenuti. CLICCA QUI
Quale tra questi lavori ti è piaciuto di più? Condividi il contenuto e seguici per altre notizie, storie e curiosità su Curiosando si impara.
Curiosandosimpara.com è presente anche su Google News, se vuoi rimanere sempre aggiornato con le nostre notizie SEGUICI QUI