39 vecchie foto dei personaggi più celebri che raramente si sono viste in giro e che le persone hanno condiviso in questo gruppo online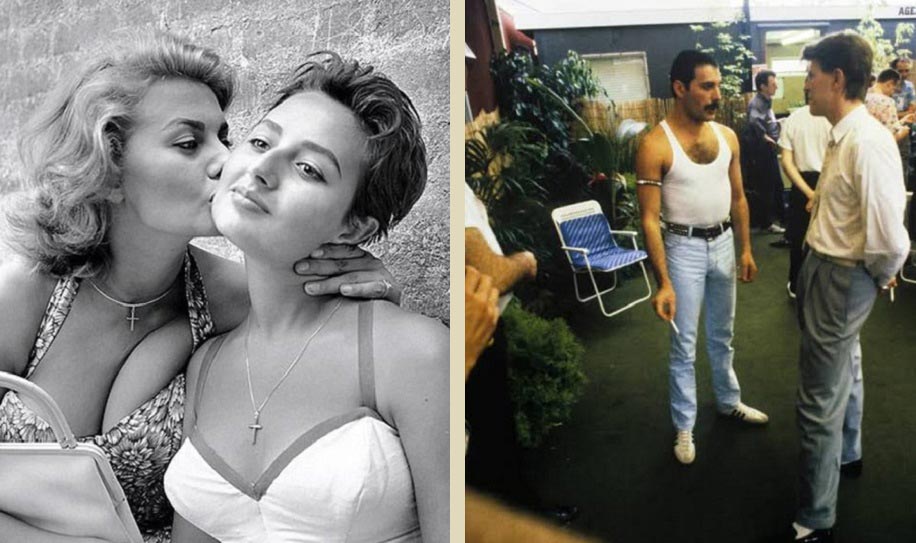 Esistono dei personaggi famosi che per via del loro talento e della loro esuberante personalità sono riusciti a farsi conoscere in tutto il mondo e a diventare delle vere e proprie icone per moltissime persone.
1# Jodie Foster e Robert De Niro sul set di Taxi Driver di Martin Scorsese, 1976
Jodie Foster and Robert De Niro on the set of Martin Scorsese's Taxi Driver, 1976. from OldSchoolCelebs
2# Rick Astley incontra la principessa Diana, 1988
Rick Astley meeting Princess Diana, 1988 from OldSchoolCelebs
3# Ava Gardner all'età di 19 anni, fotografata per il provino alla MGM, 1942
Solitamente, proprio a causa della loro fama leggendaria, ogni giorno vengono pubblicati foto e video che mostrano questi artisti sotto ai riflettori, ma anche nelle più semplici azioni della vita quotidiana e, probabilmente, proprio per questo motivo tendiamo a dimenticare come erano e cosa facevano questi grandi idoli in un passato più o meno lontano.
4# Barbara Eden sulla sua Mustang 428 Cobra Jet, 1970
Barbara Eden in her 428 Cobra Jet Mustang, 1970 from OldSchoolCelebs
5# Mark Hamill e sua moglie Marilou nel 1978
Mark Hamill and his wife Marilou in 1978 from OldSchoolCelebs
6# Benicio Del Toro e Parker Posey, 1995
Per fortuna, sulla piattaforma di Reddit è stato creato un gruppo chiamato OldSchoolCelebs, sul quale vengono condivise le foto vintage delle più grandi star mondiali, oltre a questo, la particolarità di questa community sta nel fatto che molti dei contenuti pubblicati sono davvero rari.
7# Jack Nicholson nel 1972
8# Sofia Vergara a Miami Beach, prima del successo, nei primi anni '90
Sofia Vergara Pre-Fame at Miami Beach, Early 1990s. from OldSchoolCelebs
9# Prince e la sua band, 1980
Volti noti come quelli di Marilyn Monroe, Freddie Mercury, Sting, Lady Diana e tanti altri compaiono in vecchie fotografie che in poche persone hanno avuto la fortuna di vedere.
10# I Beatles in attesa di attraversare Abbey Road, 1969
The Beatles waiting to cross Abbey Road, 1969 from OldSchoolCelebs
11# Sophia Loren dà un bacio alla sorella minore, Maria Villani Scicolone, 1955
Sophia Loren giving younger sister, Maria Villani Scicolone a kiss, 1955 from OldSchoolCelebs
12# Ben Affleck e Matt Damon che chiamano le loro mamme dopo aver vinto l'Oscar per Will Hunting – Genio ribelle, 1997
Ben Affleck and Matt Damon calling their moms after winning the Oscar for Good Will Hunting, 1997. from OldSchoolCelebs
13# Tom Cruise, Emilio Estevez, C. Thomas Howell, Patrick Swayze, Ralph Macchio, Rob Lowe e Matt Dillon, "I ragazzi della 56ª strada", 1983
Tom Cruise, Emilio Estevez, C. Thomas Howell, Patrick Swayze, Ralph Macchio, Rob Lowe and Matt Dillon, 'The Outsiders' – 1983 from OldSchoolCelebs
14# Una giovane Dolly Parton con il marito Carl Dean, sposati dal 1966
A young Dolly Parton with her husband Carl Dean, married since 1966. from OldSchoolCelebs
15# Marilyn Monroe, 1950
16# Meryl Streep quando era una cheerleader alla Bernards High School, Bernardsville, New Jersey, 1966
Meryl Streep during her cheerleader days at Bernards High School, Bernardsville, NJ, 1966 from OldSchoolCelebs
17# La principessa Diana si appisola mentre assiste ad uno spettacolo in un museo, nel 1981
Princess Diana dozing off while watching a museum performance in 1981 from OldSchoolCelebs
18# Harrison Ford, 1978
19# Joaquin Phoenix, 1996
20# Whitney Houston, 1982
21# Marilyn Monroe su una metropolitana di New York City, alla Grand Central Station, nel 1955
Marilyn Monroe on a New York City subway, at Grand Central Station in 1955. from OldSchoolCelebs
22# Freddie Mercury mentre parla con David Bowie, 1985
Freddie Mercury talking to David Bowie. (Live Aid – 1985) from OldSchoolCelebs
23# Quando Jimi Hendrix prese in affitto l'appartamento di Ringo Starr, Londra, 1966
When Jimi Hendrix Rented Ringo Starr's Apartment, London, 1966 from OldSchoolCelebs
24# Keanu Reeves e Carrie Anne Moss celebrano l'uscita di "The Matrix", 1999
Keanu Reeves and Carrie Anne Moss celebrating the release of "The Matrix", 1999 from OldSchoolCelebs
25# Sean Connery mentre mangia un piatto di pasta, 1963
Sean Connery eating pashta, nineteen shickshty three (1963). from OldSchoolCelebs
26# Mel Gibson e Sigourney Weaver nel 1983
Mel Gibson and Sigourney Weaver in 1983 from OldSchoolCelebs
27# Elton John e Cher, 1975
28# Jimi Hendrix a 15 anni con la sua prima chitarra elettrica
Jimi Hendrix aged 15, with his first electric guitar from OldSchoolCelebs
29# La giovane principessa Diana con la sua cavia Peanut, 1972
The Young Princess Diana with her guinea pig, Peanut – 1972 from OldSchoolCelebs
30# Robert Downey Jr, Anthony Michael Hall e Uma Thurman, 1987
Robert Downey Jr, Anthony Michael Hall and Uma Thurman, 1987 from OldSchoolCelebs
31# Janis Joplin a Londra, 1969
32# Danny DeVito all'Oratory Preparatory School, Summit, New Jersey, 1961
Danny DeVito at Oratory Preparatory School, Summit, NJ, 1961 from OldSchoolCelebs
33# Shakira, 1990
34# John Travolta e la principessa Diana mentre ballano alla Casa Bianca, 1985
John Travolta and Princess Diana dancing at the White House, 1985. from OldSchoolCelebs
35# Winona Ryder posa per Rolling Stone, 1991
36# Susan Sarandon, 1964
37# Audrey Hepburn fotografata da Philippe Halsman a Roma, 1954
Audrey Hepburn photographed by Philippe Halsman in Rome (1954) from OldSchoolCelebs
38# Sting fa un autografo ad una giovane Gwen Stefani, 1983
Sting giving his autograph to a young Gwen Stefani, 1983 from OldSchoolCelebs
39# Betty White, 1948
Scorri verso il basso per altri interessanti articoli.
Sai che ora abbiamo aperto un nuovo canale Telegram? Richiedi l'accesso per non perderti i nostri contenuti. CLICCA QUI
Quale tra queste vecchie foto ti ha colpito di più? Condividi il contenuto e seguici per altre notizie, storie e curiosità su Curiosando si impara.