38 volte in cui le persone non hanno potuto credere alla loro fortuna mentre rovistavano nei cassonetti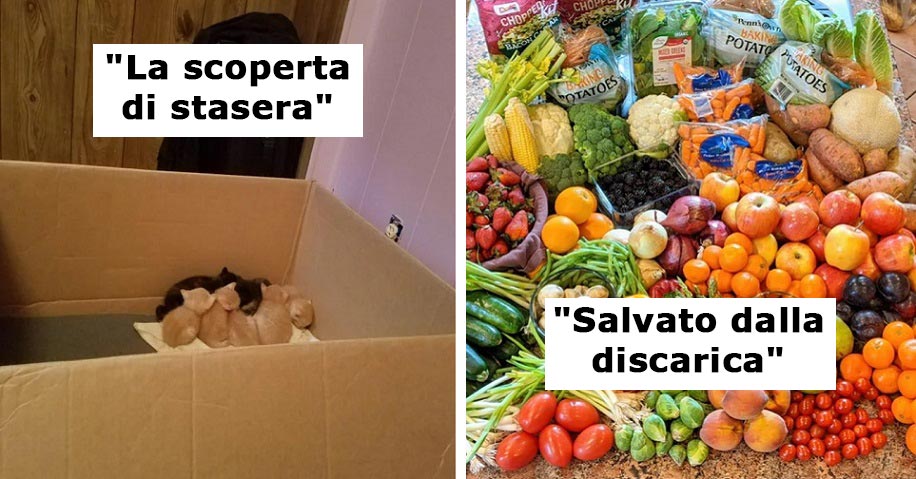 In alcuni paesi del mondo, quando le persone vogliono liberarsi di un oggetto che è ancora funzionante e in buono stato, anziché buttarlo lo lasciano accanto ai cassonetti della spazzatura, affinché altri possano dargli una seconda vita.
1# Questa sera sono tornato a casa e mi sono imbattuto in questa bellezza
Took the back way home this evening and stumbled upon this beauty. The boyfriend has been shopping around for a gaming chair, too! from DumpsterDiving
2# Lunedì ho trovato questo anello nel cassonetto. Ieri l'ho fatto valutare e ho scoperto che è un anello d'oro fatto a mano degli anni '60-'70. La fascia in oro 14k vale circa 200 dollari (la pietra è vetro). Insieme a lui ho trovato anche quelle manine
I found this ring in the dumpster on Monday! Had it appraised yesterday and found out it's a handmade gold ring from the 60s-70s! It's 14k gold band is worth $200+ (stone is glass). I also found those tiny hands with it haha from DumpsterDiving
3# Le ho recuperate dal cassonetto di una farmacia e ora sono destinate ad un ente di beneficenza gestito da una chiesa locale
Rescued from a 3 letter pharmacy dumpster and headed for donation to a clothing charity run by a local church. from DumpsterDiving
Proprio per questo motivo, in molti pensano che la spazzatura di una persona possa essere il tesoro di un'altra e nel gruppo "Dumpster Diving" gli utenti lo dimostrano ogni giorno con video e fotografie.
4# Dopo una spesa di soli 35 dollari, ora il TV Samsung 4K curvo da 55 pollici salvato dal cassonetto funziona come nuovo
After a $35 part, 55" Curved Samsung 4K TV saved from the dumpster works like new! from DumpsterDiving
5# Ho fatto guidare mio padre per 25 minuti per andare a recuperarlo, perché quando l'ho visto ho pensato che fosse perfetto nel mio ranch degli anni '50
Thought you guys might like my fav trash pick ever: made my dad drive 25 mins one way in his truck in spitting rain while I sat with it to make sure no one else took it 😂 has the original record player inside also. I know it's not everyone's style but it's like it was meant to be in my 50's ranch! from DumpsterDiving
6# Ho trovato questo splendido specchio gigante vicino al cassonetto della scuola in cui lavoro
I work as a school photographer. Best believe that when I pulled up at the elementary school I was photographing and saw the giant GORGEOUS mirror near the school dumpster?? I snuck her into my back seat before heading into the school 🤫🥰 from DumpsterDiving
La community in questione si trova sulla piattaforma di Reddit, è stata fondata nel 2009 e ad oggi conta più di 140 mila membri che si divertono a pubblicare le proprie fortunate scoperte.
7# L'orologio da 175 dollari è stato scartato per un cinturino rotto. L'ho portato al chiosco dove riparano gli orologi al centro commerciale e mi hanno detto che non era rotto, semplicemente non sapevano come far funzionare il cinturino a regolazione automatica
$175 watch was damaged out for having a broken clasp. Took it to the watch repair kiosk at the mall and he said it wasn't broken, they just didn't know how to work the self adjusting clasp. from DumpsterDiving
8# Ho preso questo tavolino dal marciapiede. La parte superiore era rotta, ma in poco più di 3 ore e con 4 euro di corda e colla l'ho reso così
Got this side table from the curb. It's top was broken, so I spend a little over 3 hours and €4 worth of rope and glue to upcycle it to this! from DumpsterDiving
9# Vi presento la nostra scoperta speciale di ieri sera. Anche lei rovistava nei cassonetti
Meet our special find from last night! She was dumpster diving too (: from DumpsterDiving
Di fatto, riciclare e riutilizzare gli oggetti di qualcun altro è anche un modo per proteggere l'ambiente, poiché, anziché acquistare qualcosa di nuovo si allunga la vita ad un oggetto già esistente e ancora perfettamente funzionale e funzionante.
10# Sono andato in giro a raccogliere pallet che le persone non volevano più e mi sono fatto una testiera
Drove around picking up pallets people no longer wanted and made myself a headboard out of them from DumpsterDiving
11# Non so cosa ne farò, ma non riuscivo a lasciarla così
Don't know what I'm going to do with it, but couldn't see this be ruined. from DumpsterDiving
12# Sono così entusiasta di questa scoperta sul marciapiede. Mia moglie voleva dei nuovi sgabelli da bar per sostituire i nostri scadenti fatti di legno e stoffa. Ho trovato questo set da 4 con un cartello che diceva: "Gratis! Ora sono vegano".
So excited about this curbside find!! The wife wanted new barstools to replace our crappy wood and cloth ones. Found a set of 4 of these with a sign that read "free! I'm vegan now" HA! Cleaned up the leather already going to do some chrome repair good as new! Thank you vegan stranger! from DumpsterDiving
Di fatto, ognuno di noi nel proprio piccolo dovrebbe fare qualcosa a riguardo per ridurre questo problema tanto importante, perché, secondo fonti ufficiali, ogni anno nel mondo vengono generate 2,01 miliardi di tonnellate di rifiuti solidi urbani e se questo non cambierà al più presto, si stima che entro il 2050 si arriveranno a produrre fino a 3,40 miliardi di tonnellate all'anno.
13# Mio padre ha tirato fuori questa gigantesca tela dal cassonetto della scuola in cui lavora. Io l'ho coperta di gesso nero e l'ho dipinta
My dad pulled this gigantic canvas out of the dumpster at the school he works at, I taped the one tear it had, covered it in black gesso and painted this from DumpsterDiving
14# Perché qualcuno dovrebbe buttarlo via?
15# L'ho trovata nel cassonetto stamattina. Sono riuscito a trovare una casa per le sue due sorelle, ma nessuna per lei. Sembra che ora ho una gatta
I found her dumpster diving this morning I was able to find homes for her two sisters but nobody wanted her. Looks like now I have a cat from DumpsterDiving
Come ben sappiamo, plastica e imballaggi monouso sono tra le cause principali che contribuiscono al cambiamento climatico, ma se dovessimo usufruire solamente di prodotti riutilizzabili le cose andrebbero di certo molto meglio.
16# Ho trovato una stampante 3D completamente funzionante mentre pioveva. Tutto ciò di cui aveva bisogno era un nuovo filamento. Una delle cose migliori che abbia mai trovato
Pulled a Fully functional 3d printer while it was raining. All it needed was new filament. One of the best things I've ever found from DumpsterDiving
17# – Marito: "Tesoro, è solo una custodia vuota, non entro a prenderla".
– Moglie (io): "Entra e prendila, la custodia potrebbe valere qualcosa, inoltre ho una strana sensazione". Chi aveva ragione? Beh, la moglie, naturalmente
Husband: "Honey It's just an empty case, I am not climbing in for that." Wife (me): "Just get in and get it the case might be worth something, plus I have a feeling." Who was right? Well it was the wife of course. from DumpsterDiving
18# Ho trovato questa prima edizione di Mary Poppins del 1934 nella spazzatura dell'edificio in cui lavoro
Found this 1934 first edition Mary Poppins in the trash of the building I work in from DumpsterDiving
19# Ieri sera ho trovato questa piccoletta. L'ho accolta e ho postato le sue foto sui gruppi di "animali smarriti" su Facebook. Dopo 2 settimane di assenza è finalmente tornata a casa dai suoi proprietari
When out to dumpsterdive and play pokémon go last night, and found this little cutie. Took her in and posted about her on "lost pets" on Facebook. After she had been missing for 2 weeks, she finally got back home to her parents ❤️ And she was only 3 months old ❤️ from DumpsterDiving
20# Ho sempre desiderato un libro firmato di questo autore. Non avrei mai pensato di trovarlo in un cassonetto
I've always wanted a signed book by this author. Never thought I'd find it in a dumpster. from DumpsterDiving
21# L'ho trovato nel vicolo. Pesava davvero un sacco perché quei pilastri sono di vero marmo
Found in the alley. It weighed a million tons, because those pillars are real marble. from DumpsterDiving
22# È incredibile quello che la gente butta via. Bicicletta Schwinn "Fair Lady" della fine degli anni '60. Mia moglie aveva bisogno di una bici e la adora assolutamente
It's amazing what people will throw away. Late 1960s Schwinn 'Fair Lady' cruiser. My wife needed a bike and absolutely loves it! from DumpsterDiving
23# Abbiamo preso dei campioni di legno da un negozio di pavimenti e creato un bancone per la nostra piccola casa
We dumpstered wood samples from a floor store and created a counter for our tiny house. from DumpsterDiving
24# Trovato in una discarica abusiva, un premio molto antico
Found in someone illegal dumping, such an antique prize ʕ•ᴥ•ʔ from DumpsterDiving
25# Pensavo che qualcuno stesse buttando via un vecchio violino…
Thought someone was throwing away an old violin. Nope, it's roulette! from DumpsterDiving
26# Ho trovato questa bellezza in un portagioie nel quale c'erano un mucchio di gioielli falsi. Oro giallo 14K, con una gemma di tanzanite 1K al centro, circondata da 23 autentici diamanti baguette
Found this beauty in a jewelry box mixed in with a bunch of fake jewelry. 14K yellow gold, with a 1K tanzanite gem in the middle, surrounded by 23 genuine baguette diamonds. Having it appraised in 2 days. from DumpsterDiving
27# Gli inquilini del mio condominio sono stati sfrattati. Hanno lasciato questo nel cassonetto. Ha solo bisogno di essere ripulito un po'
Tenants in my apartment complex got evicted. Left this in the dumpster. Just needs to be cleaned up a little. from DumpsterDiving
28# La scoperta di stasera
29# Ho trovato due buoni regalo nel cassonetto del negozio dell'usato. Ho appena controllato il saldo e ognuno di essi vale 100 dollari
Found two gift cards in the dumpster of the local thrift shop. I just checked the balance on them, and each one has $100 on it. from DumpsterDiving
30# La serra locale ha colpito di nuovo
31# Salvato dalla discarica questo fine settimana
32# La scrivania che ho trovato sul marciapiede del mio quartiere la scorsa notte
Lane midcentury modern desk I picked off the curb last night in my neighborhood. from DumpsterDiving
33# Ho trovato questo sopra una campana di riciclaggio del vetro mentre stavo andando a raccogliere dei fiori di campo
Found this on top of a glass recycling bin on my way to pick wildflowers. 😅 from DumpsterDiving
34# Non erano nel cassonetto ma accanto. Valigie American Tourister rosso ciliegia
Not in the dumpster but next to it. Mid century cherry red American Tourister nesting suitcases! from DumpsterDiving
35# Non sono dovuto nemmeno andare lontano. Era proprio accanto al cassonetto del mio appartamento
Didn't even have to go far…sitting right by my apartment dumpster (colors are more vivid IRL) from DumpsterDiving
36# Questa mattina ho trovato un divano molto bello
Found a very cool couch this morning- only had to dive for the cushions!! from DumpsterDiving
37# Ho trovato un piccolo contenitore con dentro un mucchio di vecchi soldi
Okay I know I've said this before and I know I'll probably say this again, but I think I just made my best find. Found a little money pouch with a bunch of old money in it. from DumpsterDiving
38# Trovate la vigilia di Natale
Scorri verso il basso per altri interessanti articoli.
Sai che ora abbiamo aperto un nuovo canale Telegram? Richiedi l'accesso per non perderti i nostri contenuti. CLICCA QUI
Ti è mai capitato qualcosa di simile? Condividi il contenuto e seguici per altre notizie, storie e curiosità su Curiosando si impara.