42 tra le sculture più incredibili al mondo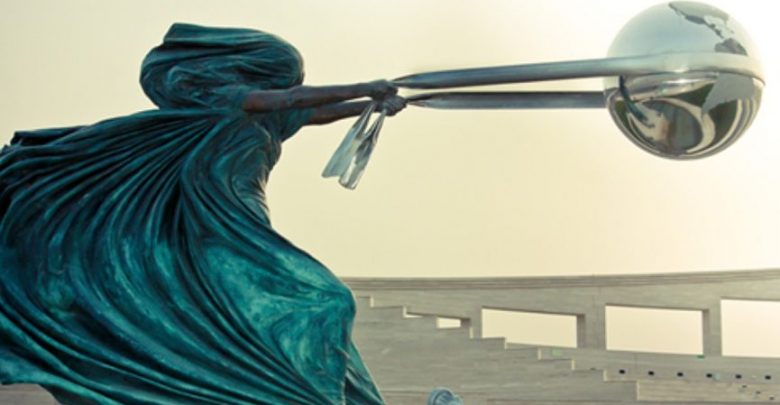 Ogni città è caratterizzata dalle proprie sculture e statue che la rendono unica al mondo e, spesso, per trovare le più particolari bisogna addentrarsi nelle vie o nelle piazzette più nascoste. Solitamente, quelle più eccentriche e accattivanti vengono prese di mira dai turisti che ne approfittano per immortalarle e per avere uno spunto per delle stimolanti conversazioni.
Questo tipo di arte è molto antico, basti pensare che la prima statuina ritrovata risale ad un periodo che va tra i 31 mila ed i 40 mila anni fa; si tratta della Venere di Hohle Fels.
Da allora, questa forma di espressione artistica è notevolmente cambiata in diversi modi, poiché, al principio, la scultura veniva utilizzata per rappresentare il mondo, tuttavia, in poco tempo, è diventato un modo per adorare gli dei. Ad oggi, le sculture moderne vengono realizzate, soprattutto, per creare consapevolezza riguardo ai temi più disparati.
Di seguito puoi trovare 42 delle opere più spettacolari che si possono trovare sparse per il mondo:
1# "Expansion" di Paige Bradley, New York, Stati Uniti
2# "Fata che danza con i denti di leone" di Robin Wight
3# "Il Colosso dell'Appennino", Firenze, Italia
4# "Bambini intrappolati in corpi adulti" di Alexander Milov
5# La "Forza della natura" di Lorenzo Quinn
6# "Mustangs" di Robert Glen, Las Colinas, Texas
7# "Black Ghost", Klaipeda, Lituania
8# "The Caring Hand", Glarus, Svizzera
9# "Break Through From Your Mold" di Zenos Frudakis, Philadelphia, Pennsylvania
10# "Mihai Eminescu", Onesti, Romania
11# "The Rain Man" di Jean-michel Folon, Firenze (fino al 2015)
12# "Diminish And Ascend" di David Mccracken, Bondi, Australia
13# "Popped Up" di Ervin Loránth Hervé, Budapest, Ungheria
14# "Viccisitudes" di Jason Decaires Taylor, Grenada, Indie Occidentali
15# "Raindrop" di Nazar Bilyk, Ucraina
16# "Shadow Street Art", Kaunas, Lituania
17# "Sinking Building Outside State Library", Melbourne, Australia
18# "1,320-ton God Of War Statue", Cina
19# "Hippo Sculptures", Taipei, Taiwan
20# "Scarpe sulla riva del Danubio" di Can Togay & Gyula Pauer, Budapest, Ungheria
21# "Les Voyageurs", Marsiglia, Francia
22# "Monument to the Anonymous Passerby", Breslavia, Polonia
23# Il gigante Atlante: enorme statua subacquea di una donna che trasporta l'oceano sulle sue spalle
24# "De Vaartkapoen", Città di Bruxelles, Belgio
25# Nelson Mandela, Sudafrica
26# "People Of The River" di Chong Fah Cheong, Singapore
27# "The Kelpies", Scozia, Regno Unito
28# "Non-Violence", Turtle Bay, New York
29# Sculture di Jaume Plensa, Yorkshire Sculpture Park, Inghilterra
30# "Salmon Sculpture", Portland, Stati Uniti
31# "Man Hanging Out", Praga, Repubblica ceca
32# "The Rising Tide" di Jason Decaires Taylor, Londra
33# "A Day Out", Adelaide, Australia
34# "Magic Wire Mesh Sculpture" di Pauline Ohrel, Francia
35# "Cattle Drive", Dallas, Stati Uniti
36# "Metalmorphosis" di David Cherny, Charlotte, Stati Uniti
37# "The Unknown Official", Reykjavik, Islanda
38# "The Shark", Oxford, Regno Unito
39# Una scena della guerra mondiale con statue di dimensioni reali, Distretto di Eceabat, Turchia
40# "Man At Work", Bratislava, Slovacchia
41# "Iguana Park", Amsterdam, Paesi Bassi
42# "Spider", Tate Modern, Londra
Scorri verso il basso per altri interessanti articoli.
Qual è la tua preferita? Lasciaci un commento e condividi il contenuto sul tuo diario così che anche i tuoi amici possano vedere queste meravigliose sculture. Seguici per altre notizie, storie e curiosità sulla pagina Curiosando si impara.
Curiosandosimpara.com è presente anche su Google News, se vuoi rimanere sempre aggiornato con le nostre notizie SEGUICI QUI