Due bambini hanno incoraggiato la loro mamma a condividere su internet la sua splendida arte culinaria (30 foto)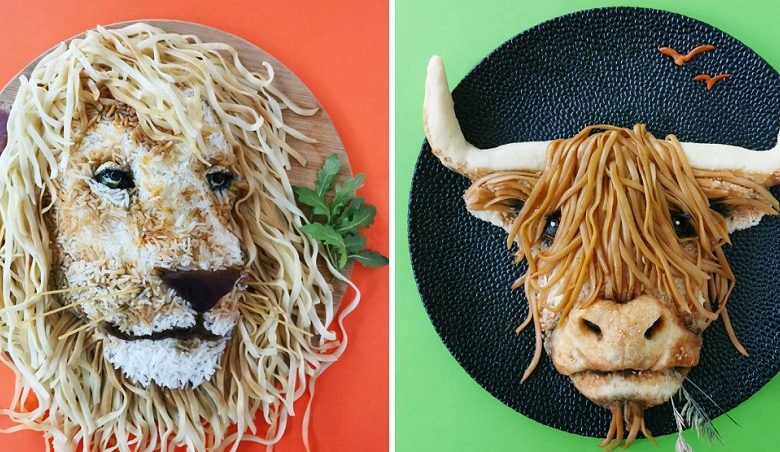 Sono molte le persone nel mondo che hanno la passione per la cucina e che, nonostante non siano dei professionisti, riescono a realizzare dei piatti molto particolari e deliziosi. Questo è proprio il caso di Jolanda Stokkermans, una donna che vive in Belgio insieme al proprio marito, ai loro due bambini e a due cani di razza Jack Russells.
Da circa un anno, questa mamma ha creato un proprio account sui social network dove si diverte a postare le foto delle sue magnifiche creazioni culinarie. Al principio, preparava delle pietanze semplici e dava alle persone che la seguivano delle idee per risparmiare tempo in cucina, fornendo ricette facili e veloci. Dopodiché, si è lasciata convincere dai suoi figli, ha iniziato a pubblicare le sue meravigliose creazioni ed i suoi utenti sono rimasti sorpresi dalla bellezza e dalla minuziosa cura dei dettagli.
Jolanda è capace di ricreare in un piatto adorabili animali, bellissimi fiori, paesaggi mozzafiato e visi di attori famosi. Tutte le sue creazioni sono incredibilmente realistiche e sono completamente commestibili; per realizzare le sue opere impiega dalle 2 alle 4 ore e utilizza principalmente, oltre a quello che ha a disposizione nel frigo e nella dispensa, spezie, verdure, salsa di pomodoro, coloranti alimentari naturali e la propria fantasia.
1#
Potato Monkey 🐵🐵🐵 Mashed potatoes & cauliflower, carrots and basil, spiced with curry powder, salt and white pepper. Enjoy! 🐵🐵🐵 Follow me also on Instagram @demealprepper for more plating fun and stay healthy!

Posted by De Meal Prepper on Monday, 11 May 2020
2#
3#
4#
5#
6#
7#
8#
9#
10#
11#
12#
13#
14#
15#
16#
17#
18#
19#
20#
21#
22#
23#
24#
25#
26#
27#
28#
29#
30#
Puoi trovare altre immagini dei piatti di Jolanda sulla pagina Facebook De Meal Prepper o De Meal Prepper su Instagram.
Scorri verso il basso per altri interessanti articoli.
Sai che ora abbiamo aperto un nuovo canale Telegram? Richiedi l'accesso per non perderti i nostri contenuti. CLICCA QUI
Non trovi che siano incredibili? Condividi il contenuto e seguici per altre notizie, storie e curiosità su Curiosando si impara.
Curiosandosimpara.com è presente anche su Google News, se vuoi rimanere sempre aggiornato con le nostre notizie SEGUICI QUI