49 cose che sono state avvistate in natura e che sono veramente sorprendenti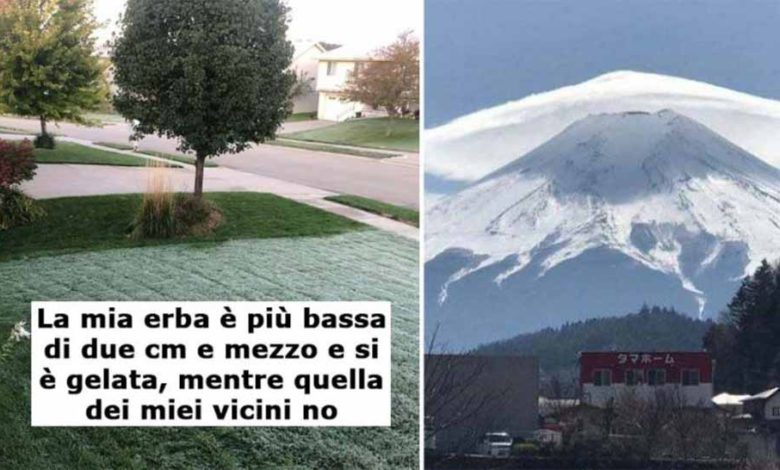 Molto spesso, a causa dei ritmi frenetici che dobbiamo sostenere, fatichiamo a renderci conto delle meraviglie che ci circondano, poiché, di fatto, non c'è bisogno di intraprendere lunghi viaggi o rischiose avventure per vedere la bellezza che Madre Natura è riuscita a creare, in quanto basterebbe prestare solamente un po' più di attenzione ai piccoli dettagli.
Ogni giorno, un sacco di cose interessanti e spettacolari accadono intorno a tutti noi, solo che non abbiamo a disposizione il tempo per poterci soffermare a guardarle. Tuttavia, ogni tanto, sarebbe bello potersi godere anche questi momenti, proprio come facevamo quando eravamo bambini e la curiosità riusciva a vincere su qualsiasi cosa.
Fortunatamente, in giro per il mondo, ci sono ancora diverse persone che amano meravigliarsi di fronte alle bellezze del nostro pianeta, proprio come facevano durante la loro infanzia, e di seguito puoi trovare 49 foto di cose che sono state avvistate in natura e che sono veramente sorprendenti.
1# Sfumature di colore nel muschio
Colour gradient moss
by u/littlewrenbird in mildlyinteresting
2# Una ciliegia è appena cresciuta da sola in mezzo al mio albero
A cherry just grew alone in the middle of my tree
by u/Hyrla in mildlyinteresting
3# Il fiume vicino a me è esondato, poi si è congelato, poi l'acqua si è ritirata e ha lasciato queste piattaforme di ghiaccio sospese sugli alberi
The river by me flooded, then froze, then the water receded leaving these hovering ice shelves on the trees
by u/RegalBeartic in mildlyinteresting
4# Ogni anno un'unica rosa rossa nasce dal muro di edera nel nostro giardino
Every year we get a single red rose growing through the wall of ivy in our garden
by u/i-lack in mildlyinteresting
5# All'interno di una bottiglia di birra che giaceva nel bosco ho trovato un mondo
Whole other world I found in a beer bottle laying in the woods
by u/Concheck_ in mildlyinteresting
6# Una rara fioritura nel deserto di Atacama in Cile
🔥 A rare desert bloom in the Atacama Desert in Chile 🔥
by u/unnaturalorder in NatureIsFuckingLit
7# Questo cavolo nel mio orto mostra i suoi colori autunnali
This cabbage in my yard showing it's fall colors
by u/Schology in mildlyinteresting
8# Una bella falena elefante trovata nel mio giardino nel Regno Unito
Beautiful Elephant Hawk Moth found in my garden, UK
by u/danit23 in mildlyinteresting
9# Uno scoiattolo con la coda bionda
Squirrel with a blonde tail
by u/AcadianMan in mildlyinteresting
10# Un'intera colonia di Coprinus disseminatus (Fairy inkcap)
🔥 A whole colony of Fairy Inkcaps 🔥
by u/DrFetusRN in NatureIsFuckingLit
11# Questo albero che si è bruciato durante un incendio continua a vivere
This tree that was burnt in a bushfire continues to live.
by in mildlyinteresting
12# Arcobaleno rosso fotografato a mezzanotte in Finlandia
This red only rainbow I saw at midnight in Finland
by u/junn0 in mildlyinteresting
13# La mia erba è più bassa di circa due centimetri e mezzo e si è gelata, mentre quella dei miei vicini no
My grass is an inch lower…and got frost. My neighbors did not
by u/Chamber11 in mildlyinteresting
14# Questa mattina ho trovato la rana più piccola che abbia mai visto in tutta la mia vita
This morning I found by far the smallest frog I have ever seen in my entire life (my average-sized fingernail for scale)
by u/okgodlemmehaveit in mildlyinteresting
15# Lo strano modo in cui questa mattina la rugiada si è formata sulle foglie della mia pianta di more
The way the condensation formed on my blackberry plant this morning
by u/redrocketinn in mildlyinteresting
16# Mia moglie ha trovato questo minuscolo scinco dalla coda blu nel nostro giardino
🔥My wife found this tiny skink in our garden, some much needed brightness on a grey, smoky day
by u/icantspeakesperanto in NatureIsFuckingLit
17# In determinate condizioni è possibile arrotolare la neve come se fosse un tappeto
Snow had just the right conditions so that it rolled up like a carpet
by u/Brannigans_Laww in mildlyinteresting
18# Il fungo Hygrocybe psittacina si trova in tutto il nord Europa
🔥 The Parrot Waxcap mushroom. Found across northern Europe.
by u/Browndog888 in NatureIsFuckingLit
19# La mia nuova petunia sembra una galassia
My new petunia looks like a galaxy
by u/shady_robot in mildlyinteresting
20# Una triste formazione rocciosa
🔥 This sorry sap of a rock formation 🔥
by u/exoduscv in NatureIsFuckingLit
21# Un esercito di baby cavallette
This baby grasshopper army in my friend's garden
by u/atomos-kairos in mildlyinteresting
22# Questo albero che si trova nel mio quartiere ha solo un ramo di un melo e per il resto è un albero normale
This tree in my neighbourhood that has 1 branch of an apple tree and the rest is a normal tree.
by u/Olyverr1014 in mildlyinteresting
23# Questo uccello assomiglia a Danny DeVito
This bird that looks like Danny DeVito
by u/jolteona in mildlyinteresting
24# Primo piano del mio camaleonte
Close up of my chameleon
by u/Sofacamaa192 in mildlyinteresting
25# Il tronco di questo ciliegio tibetano sembra fatto di rame
This Tibetan Cherry tree at my local park looks like copper!
by u/connor_clark07 in mildlyinteresting
26# Un girasole che cresce dal marciapiede
Sunflower growing out of the sidewalk – parent patch visible in background.
by u/Batholith_forge in mildlyinteresting
27# Ho trovato una cicala con il logo di McDonald's
I found a cicada with the McDonald's logo on it
by u/cadensara in mildlyinteresting
28# Rana muschiosa vietnamita
🔥 Vietnamese mossy frog
by u/mdjunaid2495 in NatureIsFuckingLit
29# Una roccia dentro ad una roccia
This rock inside a rock
by u/RodrigoMilos in mildlyinteresting
30# Piante grasse cresciute nel muro
the way these succulents grow in the wall
by in mildlyinteresting
31# Un ombrello di ghiaccio
This icy bird umbrella
by u/VigoureusePatate in mildlyinteresting
32# La mia mela sembra ancora in fase di ricarica
My apple looks like its still loading
by u/FreqRL in mildlyinteresting
33# Un albero dentro ad un altro albero
A tree inside another tree
by u/Sachikox in mildlyinteresting
34# Questi cespugli rotolanti si sono ammucchiati davanti alla casa di mio fratello
These tumbleweeds that piled up in front of my brother's house
by u/kevincennis in mildlyinteresting
35# Tre pannocchie che sono nate dalla stessa varietà di mais cimelio
3 ears I grew from the same heirloom corn variety
by u/_iam_not_martha in mildlyinteresting
36# Il Monte Fuji oggi con una rara nuvola lenticolare
Mt. Fuji today – rare lenticular cloud
by u/jpba1352 in mildlyinteresting
37# Un geyser fotografato poco prima dell'eruzione
This geyser right before it blows
by u/DreamLanding_RL in mildlyinteresting
38# Oggi ho trovato una faccia su un albero
Found a face on a tree today
by u/smuch1994 in mildlyinteresting
39# Una particolare fronda di palma
The patterns on this palm frond.
by u/oswaler in mildlyinteresting
40# Un'ape ricoperta di polline
This bee covered in pollen
by u/colinlikesbeer in mildlyinteresting
41# Questo albero è cresciuto all'interno di un vecchio silo
This tree grew inside an old silo and finally made it to the top!
by u/Wlverenefan in mildlyinteresting
42# Un cervo albino
Albino deer I spotted walking into work last week
by u/boBByHiLL-4prez in mildlyinteresting
43# Questa orchidea sembra davvero un'aquila
This orchid really looks like an eagle
by u/kYlejAEnz in mildlyinteresting
44# Una foglia molto particolare
I found this leaf that looks like a weather radar
by u/omgyoucunt in mildlyinteresting
45# Questi grappoli d'uva stanno crescendo in un enorme grappolo d'uva
These bunches of grapes are growing into a…bunch of grapes
by u/Awkward_Dog in mildlyinteresting
46# Vita nuova che cresce su questo abete
47# L'ombra di due diversi alberi
This shadow from two different trees in my parking lot
by u/UnholyFire23 in mildlyinteresting
48# A sinistra un dipinto del 1892, a destra lo stesso punto fotografato nel 2020
Left: A painting from 1892, right: the same spot in 2020.
by in mildlyinteresting
49# La foglia di acero più piccola che abbia mai visto
The smallest maple tree leaf I've ever seen
by u/bukunothing in mildlyinteresting
Scorri verso il basso per altri interessanti articoli.
Sai che ora abbiamo aperto un nuovo canale Telegram? Richiedi l'accesso per non perderti i nostri contenuti. CLICCA QUI
Quale ti ha sorpreso di più? Condividi il contenuto e seguici per altre notizie, storie e curiosità su Curiosando si impara.
Curiosandosimpara.com è presente anche su Google News, se vuoi rimanere sempre aggiornato con le nostre notizie SEGUICI QUI