34 ristoranti che si sono fatti prendere la mano ed hanno esagerato con l'impiattamento del cibo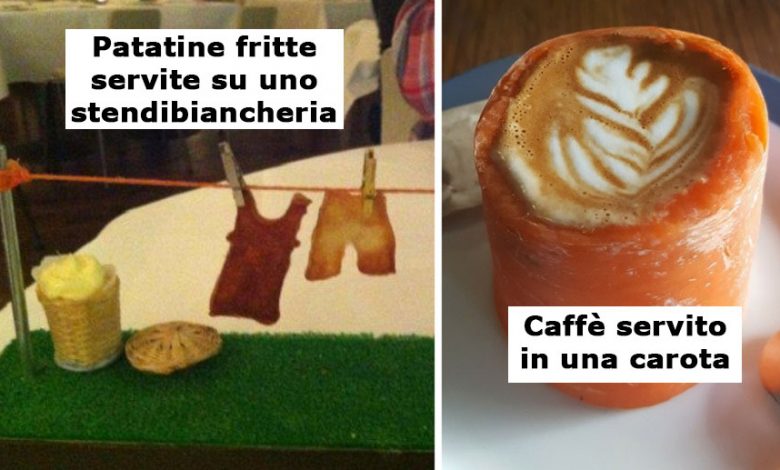 Lavorare nel settore della ristorazione non è di certo facile, poiché, oltre ad avere a che fare con il pubblico, ci sono molte regole da rispettare e bisogna anche tenere in considerazione la concorrenza, soprattutto per chi opera in zone turistiche o dove sono presenti molti locali pubblici.
1# E se avessi voluto iniziare dalle patatine?
2# Devono aver finito i piatti
3# Fetta di torta su bicchiere
Cake Cups from WeWantPlates
Proprio per questo motivo, cercare di rimanere al passo con i tempi e con le tendenze del momento è essenziale e offrire ai propri clienti piatti unici e deliziose novità per differenziarsi dagli altri locali potrebbe essere il modo corretto per incuriosire le persone e, di conseguenza, per aumentare i propri profitti. Nonostante questo, è bene cercare di non farsi prendere troppo la mano e di non oltrepassare quella sottile linea che divide una presentazione invitante da un piatto esagerato e difficile da mangiare.
4# Patatine fritte servite in un piccolo bidone della spazzatura
"How was your meal?"
"Chips were rubbish."

(Pic: @willdicki) pic.twitter.com/TQPTuW4pGZ

— We Want Plates 🍽 (@WeWantPlates) August 2, 2016
5# Pala da colazione
6# Bevanda servita in una lampadina su fenicottero gonfiabile
Drink served in a lightbulb on a flamingo inner tube from WeWantPlates
Negli ultimi anni ci siamo abituati a vedere sui vari social network le foto di piatti appetitosi e stuzzicanti, tuttavia, non tutti possono vantarsi di aver fatto delle esperienze culinarie eccellenti ed alcuni utenti del web lo hanno dimostrato condividento le simpatiche immagini degli strani piatti che si sono ritrovati in tavola.
7# Uova alla scozzese servite in un trofeo
The guy at the table next to me has just been served the most SENSATIONAL scotch egg. It comes in a TROPHY. pic.twitter.com/iQKz4eqqAW

— Jason Hazeley (@JasonHazeley) December 11, 2016
8# Il mio cibo è da qualche parte lì dentro
9# Patatine fritte servite su uno stendibiancheria
@wewantplates Chips on a washing line (Citron in Dublin) pic.twitter.com/Yu8UZUSeel

— Emer McLysaght (@EmerTheScreamer) March 10, 2015
10# Quest'insalata è stata servita su una mano di ghiaccio
11# Frittelle servite in una scarpa di gelatina
12# Un cliente ha chiesto una spremuta d'arancia e gli hanno servito questo
On #NationalLazyDay we recall the time a customer ordered an orange juice and was presented with this. pic.twitter.com/gAUhxJpwON

— We Want Plates 🍽 (@WeWantPlates) August 10, 2016
13# Caffè in una carota
14# Gli stuzzichini che accompagnano il tè pomeridiano vengono serviti su questo scaffale
15# Bevanda ghiacciata servita in un sacchetto con la cannuccia
16# Hamburger trafitto da una spada
Terrible bun:meat ratio and precariously tall burger on a skillet on a board with a sword through it. from WeWantPlates
17# Fish and chips serviti su una ruota panoramica
Fish and chips on a Ferris wheel.

THIS IS NOT A DRILL.

WE REPEAT, THIS IS NOT A DRILL.

(Pic: Gareth Nelson) pic.twitter.com/K1TR4UG5jm

— We Want Plates 🍽 (@WeWantPlates) July 6, 2016
18# Tutto questo per una fragola tagliata a metà
19# Le olive sono state servite su un cucchiaio d'argento e poste sotto un ulivo in miniatura
@WeWantPlates I only like my olives to be served on a silver spoon and placed beneath a miniature olive tree! pic.twitter.com/iTrF8X64Po

— Will Dickinson (@willdicki) July 2, 2017
20# Scala di sushi
21# Dolcetti serviti su un enorme mattoncino Lego
sweets served on an oversized piece of lego from WeWantPlates
22# Quel momento in cui tutti gli altri ricevono dei piatti mentre il tuo dessert arriva su una testa di cavallo di porcellana
That moment when everyone else gets plates and your dessert arrives on a porcelain horse head.
(Pic: elder3817) pic.twitter.com/KyqPVEuhBP

— We Want Plates 🍽 (@WeWantPlates) July 22, 2016
23# Funghi serviti in un minigiardino
Please serve my mushrooms in a small garden that you bring to my table from WeWantPlates
24# Primo piatto di un menu degustazione: agrumi caramellati. Il cameriere ha detto: "stendi la mano"
First course of a tasting menu: citrus in sugar. The waiter said, "hold out your hand". from WeWantPlates
25# Il prosciutto è stato servito su una Barbie
Meat served on a Barbie doll (x-post from r/food) from WeWantPlates
26# Questo non è quello che mi aspettavo quando ho ordinato un'insalata Caesar
This is not what I expected when I ordered a Caesar salad pic.twitter.com/yv9161wG7W

— Celeste Ng (@pronounced_ing) December 11, 2016
27# Formaggio grigliato infilzato in un gancio metallico sopra una ciotola di zuppa
Grilled cheese suspended on metal hook above bowl of soup. from WeWantPlates
28# Stuzzichini serviti su filo spinato
On #BeefWellingtonDay we take a solemn moment to recall the mini ones served on barbed wire.
(Pic: @AstridsTaste) pic.twitter.com/nGrtLFg4bf

— We Want Plates 🍽 (@WeWantPlates) June 18, 2016
29# Cos'è questo?
30# Mini filetti alla Wellington serviti su una ghigliottina
Mini beef Wellington served on a Guillotine from WeWantPlates
31# Un cocktail in gabbia
32# Kebab in bicicletta
33# Torta di carote servita su specchi rotondi
34# Cibo servito in una ciotola per cani
@WeWantPlates ah yes. A dog bowl. How trendy. pic.twitter.com/n30noVdLIA

— Zoe (@zoecarrington) July 26, 2015
Scorri verso il basso per altri interessanti articoli.
Sai che ora abbiamo aperto un nuovo canale Telegram? Richiedi l'accesso per non perderti i nostri contenuti. CLICCA QUI
Ti è mai capitata una cosa simile? Condividi il contenuto e seguici per altre notizie, storie e curiosità su Curiosando si impara.
Curiosandosimpara.com è presente anche su Google News, se vuoi rimanere sempre aggiornato con le nostre notizie SEGUICI QUI
Potrebbe interessarti: