27 persone hanno scattato delle splendide foto dell'ultima Superluna del 2020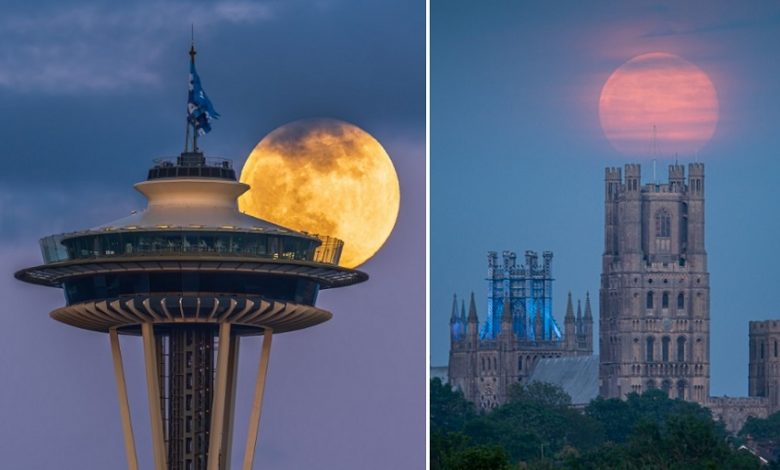 Nei giorni scorsi, la maggior parte delle persone è riuscita ad ammirare il meraviglioso spettacolo naturale che ci ha regalato il cielo. Di fatto, si è trattato di un evento tanto atteso da tutti gli appassionati di astronomia, poiché, per l'ultima volta nel 2020, si è potuta osservare una Luna molto più grande e luminosa di quelle che si potranno vedere nei prossimi mesi.
Questo splendido plenilunio prende il nome di Luna di fiori, proprio per il periodo in cui si verifica, ovvero quando la natura comincia a rinascere ed a donare al mondo incredibili colori e profumi. Dopo questo spettacolo, i social network si sono letteralmente riempiti di immagini meravigliose e anche diversi utenti presenti sulla piattaforma di Twitter hanno voluto mostrare al mondo i loro scatti perfetti.
Di seguito 27 meravigliose foto dell'ultima superluna del 2020:
1#
It took a while to appear but the #FlowerMoon eventually made a brief appearance above @Ely_Cathedral which is still lit blue in support of the #NHS. #supermoon @SpottedInEly @ChrisPage90 @BBCLookEast @skyatnightmag @VirtualAstro pic.twitter.com/ofKH35c1R2

— James Billings (@jowlymonster) May 7, 2020
2#
#FlowerMoon rising behind Space Needle tonight in #Seattle. #supermoon2020 pic.twitter.com/3ed7zOEqtj

— Sigma Sreedharan (@sigmas) May 7, 2020
3#
Come out MOON CHILD 🌕♥️

"It hurts not having you by my side, but at least we're under the same moon"#SUPERMOON #FlowerMoon pic.twitter.com/ncJ2DLa4hO

— Cassy ☕ (@karlcassidyr) May 7, 2020
4#
Moonrise at #Stonehenge today (May 7th ) is at 20.51 and moonset is at 05.48 #FlowerMoon #Fullmoon #Moonphase #Supermoon pic.twitter.com/Van4kb0zdw

— Stonehenge U.K (@ST0NEHENGE) May 7, 2020
5#
Flower moon rises over Y Garn, Glyderau, Snowdonia seen from Bodorgan, Anglesey. Probably get the video out in a day or two … 😊👍
.
.
.#flowermoon #supermoon #snowdonia #anglesey pic.twitter.com/jGQVVnkIUG

— David Griffiths (@dgriffgallery) May 6, 2020
6#
The Flower Moon#FlowerMoon 🌙🌼 pic.twitter.com/pjU8EHvj3s

— Tanya Abad (@TanyaAbadnews) May 8, 2020
7#
Full Moon tomorrow (7th May) at 11.45am #FlowerMoon #SuperMoon #FullMoon https://t.co/q9uTPLKur6 pic.twitter.com/sAU92ZfxU4

— Stonehenge U.K (@ST0NEHENGE) May 6, 2020
8#
I don't even know how I managed to get this shot but, here are some Snow Geese and the #flowermoon which is the last super moon of 2020.#supermoon pic.twitter.com/sXfI4QwM5h

— Misheyla Iwasiuk (@MisheylaIwasiuk) May 7, 2020
9#
May's 'Flower Moon' #may #flowermoon #nasa🚀 #nyc #breaknpics pic.twitter.com/t77pOlZ3G9

— Break'n Pics (@breaknpics) May 6, 2020
10#
Flower Moon rising over Sandycove this evening.#FlowerMoon #DunLaoghaire #dublin pic.twitter.com/lyDkZDElqW

— Karl Jordan (@Karljordan) May 7, 2020
11#
The #FlowerMoon – My kiddo found a big box of snacks in a "junk pile." It was filled with cookies, cake mix, and ranch dressing. I made her put it back and she was very upset about it. #supermoon #exploremb pic.twitter.com/mHF3MFbAOG

— Misheyla Iwasiuk (@MisheylaIwasiuk) May 8, 2020
12#
Beautiful Isn't it 😍😍
Flowermoon
07/05/2020#fullmoon #FlowerMoon pic.twitter.com/HVTGyqfYTz

— Psychrolusia_ (@psychrolusia) May 7, 2020
13#
Rising of the nearly full #FlowerMoon on a pink sky! pic.twitter.com/fc7WYwTGxq

— Carole (@SageCarole) May 7, 2020
14#
It's a beautiful Full Moon that called Flower Moon tonight.

But I took Hercules Moon🤣🤣🤣#FullMoon #FlowerMoon #Avgeeks #aviation #aviationphotography #Hercules #c130j #374aw #36as pic.twitter.com/Fk2e89FhO0

— Golf9 ✈️ (@KimagureGolf9) May 7, 2020
15#
#supermoon2020 #FlowerMoon #scorpio
She's in Scorpio or whateva ♏ pic.twitter.com/BgEkVl4HUW

— gisellefl (@xgiselle_x) May 6, 2020
16#
#FlowerMoon #supermoon as seen from crestline, ca. Big moon over big bear. pic.twitter.com/wtRY9xwTd1

— J.Steele (@harrypotsticker) May 7, 2020
17#
Best I could get of tonight's #supermoon over Moulton, Northamptonshire. Cloudy close to the horizon #FlowerMoon @NNskies @VirtualAstro pic.twitter.com/X5JlEhOBPf

— Kevin Howard (@kev9000pro) May 7, 2020
18#
Super Flower Moon, the last Super Moon of 2020, rising over the Magway, Myanmar. #SuperMoon #FlowerMoon pic.twitter.com/Kp3gqLYO53

— Zaw (@zaw__ht) May 6, 2020
19#
The lovely Flower Moon slipping away in a haze of rose and violet this morning, in Winchester.#supermoon #FlowerMoon #fullmoon #loveukweather @StormHour #supermoon2020 @earthskyscience@CloudAppSoc #ThePhotoHour @BBCWthrWatchers@BBCSouthWeather @itvweather @PicPublic pic.twitter.com/4Kk1Zn5DR9

— Linda Holtby (@holtby_linda) May 7, 2020
20#
Apparently its a Flower Moon tonight, looks very beautiful #fullmoon #FlowerMoon pic.twitter.com/W7iJxGkMgl

— Rob in the Peak (@Rob15333645) May 7, 2020
21#
Here's the one and only moon pic I took tonight. #FlowerMoon pic.twitter.com/hzHwGfpbsv

— Sierra B. (@Sierralbee) May 8, 2020
22#
The flower moon is rising. Here in pre-Christian times it was referred to as the honey moon. Pagan weddings occurring in May and would conclude with newlyweds eloping to consecrate their marriage under the most romantic moon of the year. 🌚❤🔭🥰 #FlowerMoon pic.twitter.com/HSqjrSTIRc

— Dr David Boyce (@DrDavidBoyce) May 7, 2020
23#
If you have the chance, take a moment and look up at the stunning, full #FlowerMoon tonight – our last supermoon of the year. Nice to find some solace in the night sky once again ✨

📸: My backyard, Orangeville, Ont. 🇨🇦 pic.twitter.com/nm0JXNjjO5

— Nancy (@nancyorford) May 7, 2020
24#
Not got my camera out for none-work related things in ages, but the #FlowerMoon got me to tonight 😍 pic.twitter.com/kak62IhTAh

— Charlotte (@charlotteel_) May 7, 2020
25#
This morning's Super Full Moon. The last Super Moon of 2020 🌕📸 | Preston#stormhour #thephotohour #fullmoon #supermoon #flowermoon #thursdayvibes #ThursdayThoughts #ThursdayMotivation #thursdaymood #thursdaymorning pic.twitter.com/hUt3RWbPZb

— Sonia Bashir 🔥📸 (@SoniaBashir_) May 7, 2020
26#
The last super moon in 2020! #supermoon #FlowerMoon pic.twitter.com/9MZAMK6h3Q

— Razan (@iraazzann) May 7, 2020
27#
The #FlowerMoon over Brighton beach yesterday evening. 🌔 pic.twitter.com/3jmVBbLymU

— George Fryer (@georgesamfryer) May 7, 2020
Scorri verso il basso per altri interessanti articoli.
Sai che ora abbiamo aperto un nuovo canale Telegram? Richiedi l'accesso per non perderti i nostri contenuti. CLICCA QUI
Qual è la tua preferita? Condividi il contenuto e seguici per altre notizie, storie e curiosità su Curiosando si impara.
Curiosandosimpara.com è presente anche su Google News, se vuoi rimanere sempre aggiornato con le nostre notizie SEGUICI QUI